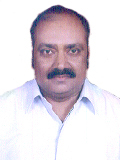 Acharya Shiv Kumar Agrawal , is a well known name in Astrology and occult sciences. He has been working in this field for more than 30 years now. His academic education is B.E., DCA, PGDPPIM, BJMC & LLB. His devotion, study, work, research and rich experience in astrology and occult subjects adds on his credit the honours of Jyotish Visharad (ICAS)- Gold Medalist, KP Astrologer, Palmist, Vaastu Consultant, He has been honoured by many awards by AIFAS, Delhi and other well known institutions. Besides this all he has attended many programs for enhancing and developing psychic and hidden powers. He has also taken up study and courses of SSY (Siddha Samadhi Yoga), POI (Power of Intention), ISP (Infant Siddha Program), Astral Travel and other similar courses.

About Consultation

He is advisor in Astrology and Occult Sciences. He may be contacted for horoscope erection and analysis, Predictions, Prashana Kal (Horary), Name analysis, Gun Milan, Muhurat, Palmistry and advice for Vedic Gems. He uses Vedic System, KP, Lal Kitab, Vaastu, Feng Shui and allied Sciences.

About Teaching

He is also teaching this science to the deserving disciples on individual and group class basis with practical knowledge, work and experience.